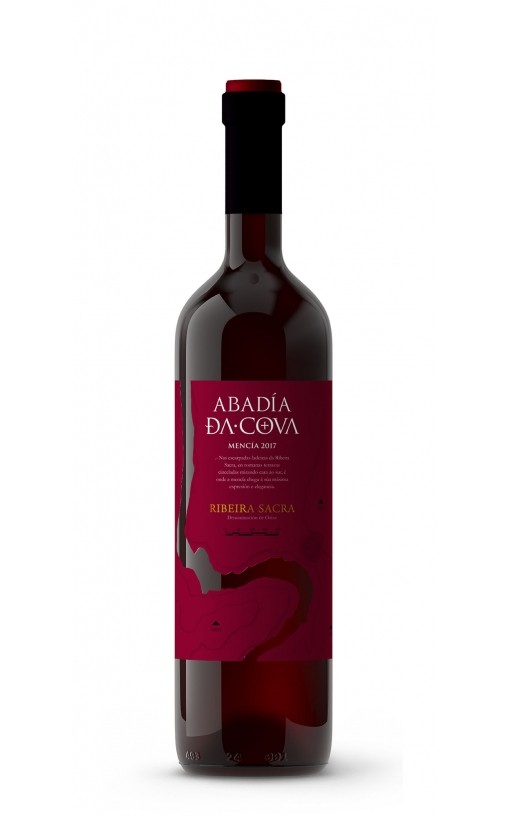 Abadía da Cova red
Wines
Harvest: 2016
Type of grape: Mencía
Viticulture: heroic in terraces. All works are done manually.
Vineyard: A Granxa, Pena Fión and O mineral
Orientation: South - Southwest
Altitude: 460m
Architecture: In terraces
Slope: 38% - 64%
Soil: Granite and slate, with different amounts of silts, sands and clays
Age of vineyard: 25/70 years
Conduction: espalier at simple cord and traditional system
Pruning: Royat and simple Guyot
Density of plantation: 3100 - 4700 vines/ha
Harvest: Manual in boxes of 18 kilos
Heroes: José Ramón, Manuel, Fernando and Roberto take care of these vines with a lot of attention and respect
Elaboration: All the grapes are selected manually. Later, it is destemmed and slightly pressed. It is vinified in stainless steel tanks at controlled temperature for ten days. The wine is gently pumped back during fermentation and maceration. It will rest on its own lees for at least six months
Vintage: In winter and spring there was a high rainfall, accompanied by average temperatures. From there, the year was hot and dry, and the vines had to take advantage of all the available water reserves to reach a very balanced ripening. The harvest took place between 23rd and 30th of September.
Serving temperature: 12º/14º (We recommend you uncork the bottle half an hour before consumption to oxygenate it)
Alcohol content: 13% vol.
Total acidity: 5.5 g/l
Save time: from 6 months to 4 years. After a few months of balance in the bottle, the wine is ready to be consumed. Consume preferably during the first or second year.
Tasting Notes: Cherry Red with violet hues, well-covered and bright. Clean and powerful aroma of red fruit, black fruit, ripe fruit, floral and varietal notes of marked personality. On the palate, it is tasty, fruity, redcurrants, blueberries, red candy, minerals with fleshiness and tenderness and with a point of warmth.
75cl bottle